Welcome to Digibird.com
Digibird is a gallery of high-magnification digital bird photography
and a digiscoping resource for bird photographers.
All of the photos are digital originals.


All images and text copyright 2000-2004 by George Raiche/Digibird.com; unauthorized use or reproduction prohibited.
(We consider requests for noncommercial use--please email.)
Digibird is a work in progress. Please return soon.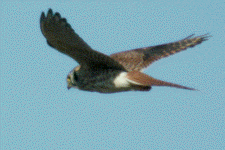 American Kestrel (Falco sparverius)

Hosted by

Digibird recommends DSL!