This page contains an overview of advice and technique, with links to pages with in-depth explanation. The basic technique is to frame the subject in the scope's field of view, hold the camera lens against the eyepiece, and let the camera focus and meter automatically. What could be simpler? Of course, the details make all the difference. As a first step, you should be confident with the independent operation of your camera and your scope. Practice using both before you try to use them together.
It is important to realize that if your primary goal is to take publication quality bird photos, then this technique isn't for you--there are too many compromises in using spotting scopes for telephoto imaging. "Traditional" telephoto technology (i.e., SLR/film) is much better for this application. However, if your goal is to expand the capabilities of your spotting scope, and make a personal record of your observations, then this technique can be very rewarding. Here we go.
Many of the photos in this primer were taken at the San Francisco (USA) Zoo. The Zoo hosts an avian rehabilitation facility. These bald eagles are rescued birds, incapable of flight. The others are wild birds.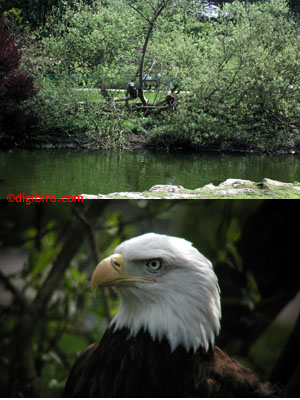 Bald eagle (Haliaeetus leucocephalus)