Color balance: This is one of the trickiest areas of digital photography, and the best general advice I can give is to simply set the control to automatic; if necessary, you can fix this later in post-processing. Most of the time, especially if the subject is well-illuminated, this will get pretty close. My impression is that the Nikon is a bit weak in the blue channel, resulting in a slightly yellow cast in the raw image. Almost any image editing software (even those available free) will let you tweak this.
Sensitivity: The sensitivity of the CCD imager is set with the "ISO" control. This control is analogous to the film ISO (formerly ASA) rating, and involves an analogous tradeoff: as sensitivity increases, so does noise. Noise--a random distribution of light and dark pixel levels superimposed on your image--reduces the clarity of the final image, especially if overall light levels are low. Try to shoot at ISO 100. Only if you are desperate to obtain an image should you shoot at ISO 400.
Sharpening, contrast ('image adjustment'), 'best shot selector': You'd like the camera to minimize any adjustments of the recorded image; you'd rather take full control of this process with editing software. So set "sharpening" to off, "image adjustment" to "normal", and best shot selector to "off".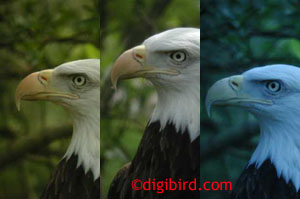 Click for color balance tests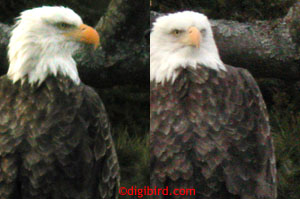 Digibird link: wild eagles
Camera CCD noise at ISO=200 and 400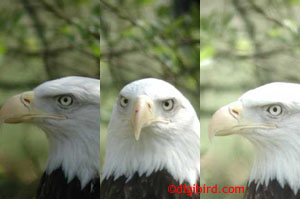 Click for ISO, metering, camera zoom tests